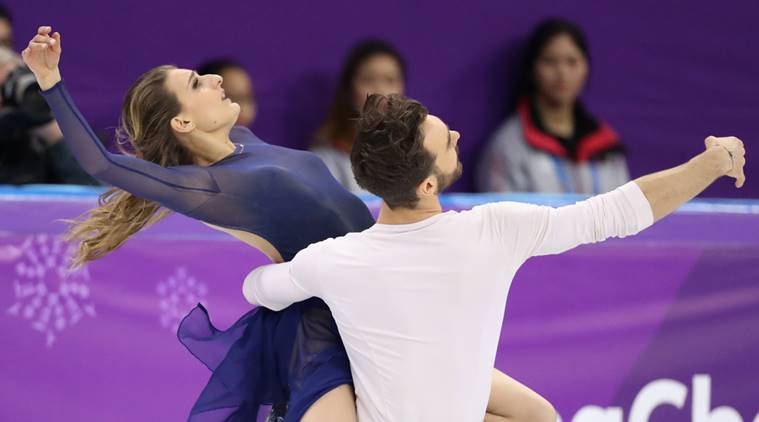 Gabriella Papadakis took no chances. Her ice dancing costume on Tuesday contained no hooks, nothing that could come undone as it did a day earlier in the Olympics' most famous wardrobe malfunction.
The French athlete and partner Guillaume Cizeron completed a lovely, lyrical free skate to win a silver medal behind the Canadian team of Tessa Virtue and Scott Moir, but it was hard not to see in their faces the belief that the faulty costume had cost them gold.
NBC analyst Tanith White said she was "sitting here grabbing my chest feeling my heart pound" after their performance. White, however, punted when the time came to give her opinion on the deserving winner. "It's making me sweat, just the idea of having to choose between the Canadian and the French, but most important, they were both exceptional," she said. True, it was tough. But that's her job.
WARDROBE MALFUNCTION, PART TWO: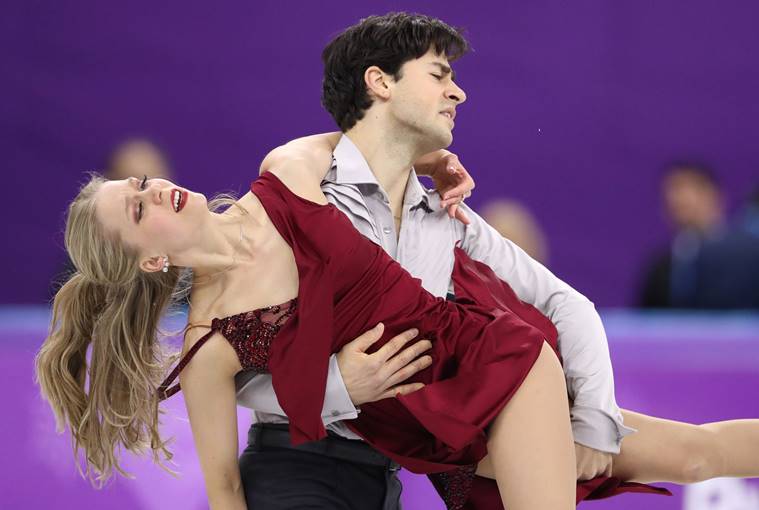 Kaitlyn Weaver and Andrew Poje of Canada perform. (Source: Reuters)
After two wardrobe malfunctions on the ice, it was hard to watch Canadian Kaitlyn Weaver's ice dancing routine without focusing on a loose red strap that kept falling down her arm. Apparently it was part of the costume.
Avoiding wardrobe malfunction a priority for Turkish pair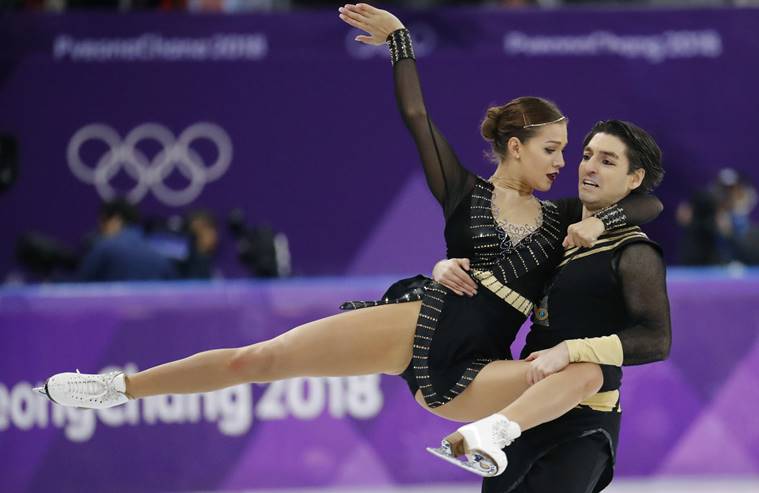 Alisa Agafonova and Alper Ucar of Turkey perform during the ice dance. (Source: AP)
A pair of Turkish ice dancers on Tuesday said they take care to ensure their relatively conservative costumes are firmly in place when they compete but maintained it was not due to any pressure from their government.
"The most important part for Alisa when she designs it is keeping it safe," Alper Ucar told Reuters following his free dance routine with partner Alisa Agafonova at the Gangneung Ice Arena on Tuesday.
Ukrainian-born Agafonova, who represented the Eastern European nation until 2010, said: "I am doing what I like and what you see is what I decided that I like."
Wearing costumes that evoked ancient Egypt, they are among the most covered-up of any of the performers but the duo said it was their own choice.
Ucar said the Turkish Olympic committee did not give them any specific directions on their costumes.
"Turkey is a country where one side is Europe and the other side is the Middle East," he said.
"We are a multicultural country and our traditional designs for our costumes are generally very liked by the crowd. We are a democratic country, so there is no pressure. They are always supporting us and that's why we are here."