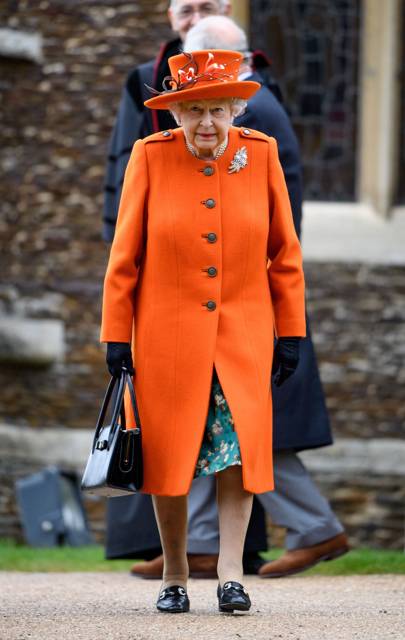 March 20 heralds the first day of spring and Her Majesty, who has a penchant for bold, block-coloured outfits, took the opportunity to wear a sunny look in salute of the changing seasons.
Visiting London's Royal Academy of Arts to observe the completion of a major redevelopment of the site in its 250th year, the Queen wore a tangerine coat over a floral dress, accented with her signature Launer London top-handle bag and Anello & Davide of Kensington horsebit loafers.
The Queen Elizabeth II – Style File
Her Majesty wore the same unabashedly bright cover-up – a wardrobe tactic employed to ensure that she is highly visible in public situations – to the Sandringham Christmas Day church service in 2017, but updated her floral brooch for an elaborate crystal bow for today's royal visit.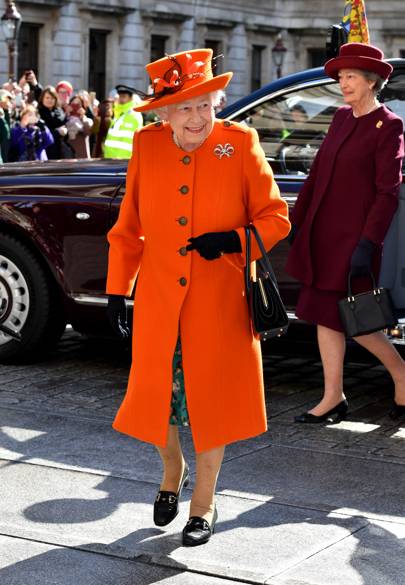 Her outing coincides with the vernal equinox, the point in the calendar where the days get longer and the nights get shorter due to the tilt of the earth in relation to the sun. But, her decision to wear an outfit previously worn in the depths of winter proves that when it comes to cheering colour schemes, there is never an ill time to wear them. A thought to remember as the Beast from the East starts to settle, and spring officially gets into full swing.