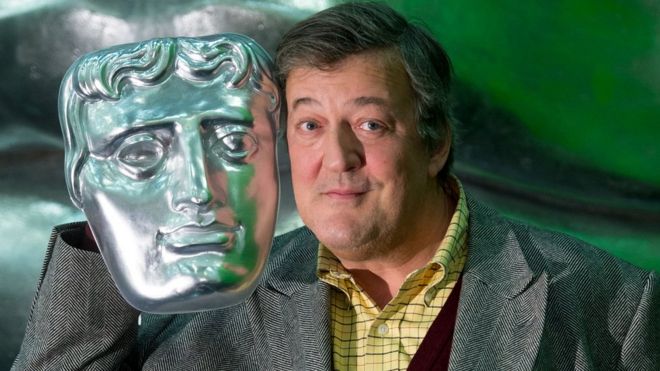 Stephen Fry is to step down as host of the Bafta Film Awards.
Fry, who has fronted the ceremony 12 times, said it was "only right to stand down and let others take the Baftas on to new heights and greater glories".
He added: "What fun it will be to watch Bafta 2018 without my heart hammering, mouth drying and knees trembling."
Bafta thanked him for making the awards "such memorable and joyous occasions". A replacement will be named on Tuesday, when this year's nominees are revealed.
Fry first hosted the awards in 2001, the year Gladiator won best picture, and has become a much-loved fixture thanks to his affectionate and occasionally risque ribbing of celebrity guests.
He had a break from hosting duties between 2007-11.
Who could take over from Stephen Fry?
Jonathan Ross – hosted from 2007-11, between Fry's two stints, but is now an ITV property
Claudia Winkleman – the Strictly star also hosted the BBC's Film… programme from 2010-16
James Corden – a reliable MC who would appeal to the US audience, which is key for Bafta
Richard Ayoade – the comic actor and TV host is also an acclaimed film-maker
Jennifer Saunders – like Fry, a British comedy legend who'd be in her element poking fun at the US stars
Emma Thompson – the three-time Bafta winner could balance comedy and gravitas
Ricky Gervais – another British comedian with a big US presence after hosting the Golden Globes
Graham Norton – chat show king who hosted the Bafta TV Awards for several years
Hugh Laurie – who better than Fry's Golden Globe-winning former comedy partner?